Your First Day
Welcome to VSHN! You are a new VSHNeer now. This section of the Handbook will give you all the information you need to get started as easily as possible.
The Office
The VSHN offices are located at Neugasse 6 & 10, in Zurich. The main entrance can be found in Neugasse 10 on the first floor. We're located a mere 7 minutes away by foot from Zurich Hauptbahnhof (Zurich main train station).
| | |
| --- | --- |
| | The postal code is 8005, and the office telephone is +41 44 545 53 00. |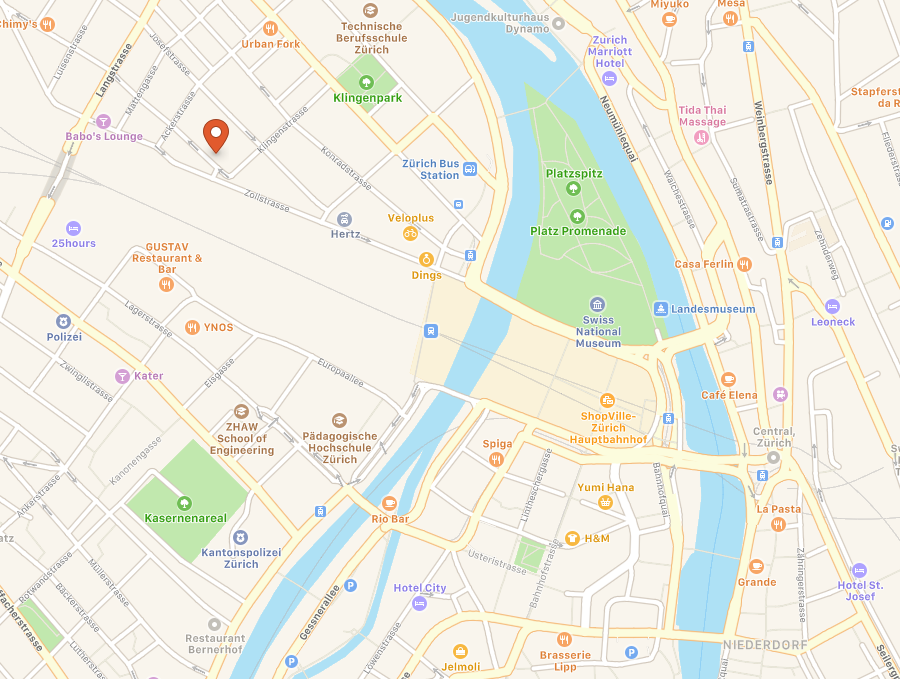 Working Hours
People have different rhythms when it comes to working. Some people enjoy working really early, while others do their best work in the evening, or even at night.
The rule here is very simple: as long as your team is aware of your whereabouts, feel free to find the rhythm that works the best for you. Just remember that most teams carry their stand-up meetings every Tuesday to Friday at 11:45 AM, and if you can't attend (not even remotely) please notify your team mates.
Also pay attention to the fact that, according to your work agreement, you should work 40 hours a week, or the percentage thereof agreed for part-time contracts. Not more.
As we're working in a yearly-hour model you're free to figure out how to best distribute these hours over the year. Some of us are passionate skiers, others like swimming in the lake a lot. So some of us are working a bit more in summers, others a bit more in the winters which gives the needed time for what you're passionate about outside working. The rule of thumb: Don't go below 75 hours of under-working and 75 hours above overworking (controlling via Odoo and your Payslip).
Your Mentor
A senior VSHNeer will be your Mentor. They will be your primary contact for questions and must make sure that you receive all required information throughout the start of your career at VSHN and your Trial Period (usually the first 3 months).
Your Introductory Blog Post
Once you have finished setting up your workstation, one of the first assignments you will receive is to introduce yourself on our blog. We've both an English and a German version of it, so you can choose the language that works better for you. You might want to check out the introductions of some of your new colleagues for inspiration, and to get to know each other better.
Hardware and Software
This section contains some information about your laptop, monitors, desk, and hardware budget.
Laptop
At VSHN we work with open, cross-platforms tools. This means that technically you can choose any laptop you like to work with. Most of us use Lenovo X1 Carbon or MacBook Pro machines.
In terms of software, nearly everyone ditches the Windows installation in the laptops, and uses some Linux distribution instead, such as Ubuntu, Fedora or Arch. Some of us use GNOME, others KDE and others just i3 in our desktops.
| | |
| --- | --- |
| | Ubuntu has very good support for Lenovo laptops, and many VSHNeers have installed it, which means they could help you in case of trouble. There is even a page in the wiki about that! |
Software
Whichever laptop you choose, you will most probably have to install one or many of the following software packages.
As a techie, you will likely also need these: