Calendar
SOGo calendars are an important tool for collaboration with your team members.
Share your Personal Calendar
Your personal calendar must be visible for your peers to see; this way they can tell where you are at any given moment. These are the steps to do share your personal calendar.
Click on the "⋮ < Sharing…" menu next to your calendar. Mind that you have to scroll in the context menu.

Choose "Any Authenticated User"–all SOGo users will have access to this calendar.

Public: "View All"

Confidential: "View the Date & Time"

Private: None

Choose "Public Access" and set all to none if there isn't a really good reason somebody unauthenticated should access your calendar.

Public: None

Confidential: None

Private: None
Shared Calendars in SOGo
In SOGo's calendar view, you'll find a "Subscriptions" section in your sidebar. Click on the round "+" sign to search for a shared calendar.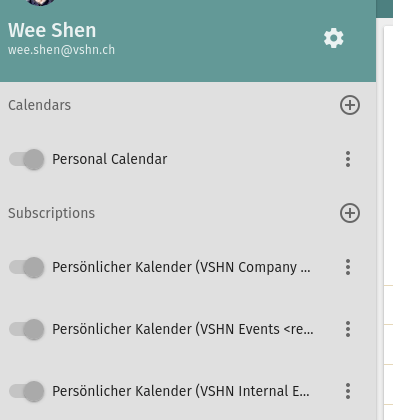 Popular shared calendars:
VSHN Company

VSHN Events

Internal Education

Interest Groups

VSHN Tower

VSHN Meeting Room

VSHN Entrance

Personal calendars of your colleagues
| | |
| --- | --- |
| | Rename the calendar with the 3 dots, not via properties, so it will be ordered alphabetically after renaming. |
Create Recurring Meetings for Work/Interest Groups
Use Interest Groups to send invites for recurring meetings for interest groups. For that, we can do changes to recurring meetings even though the original organizer is unavailable.
Add the calendar in SOGo like in the pic below: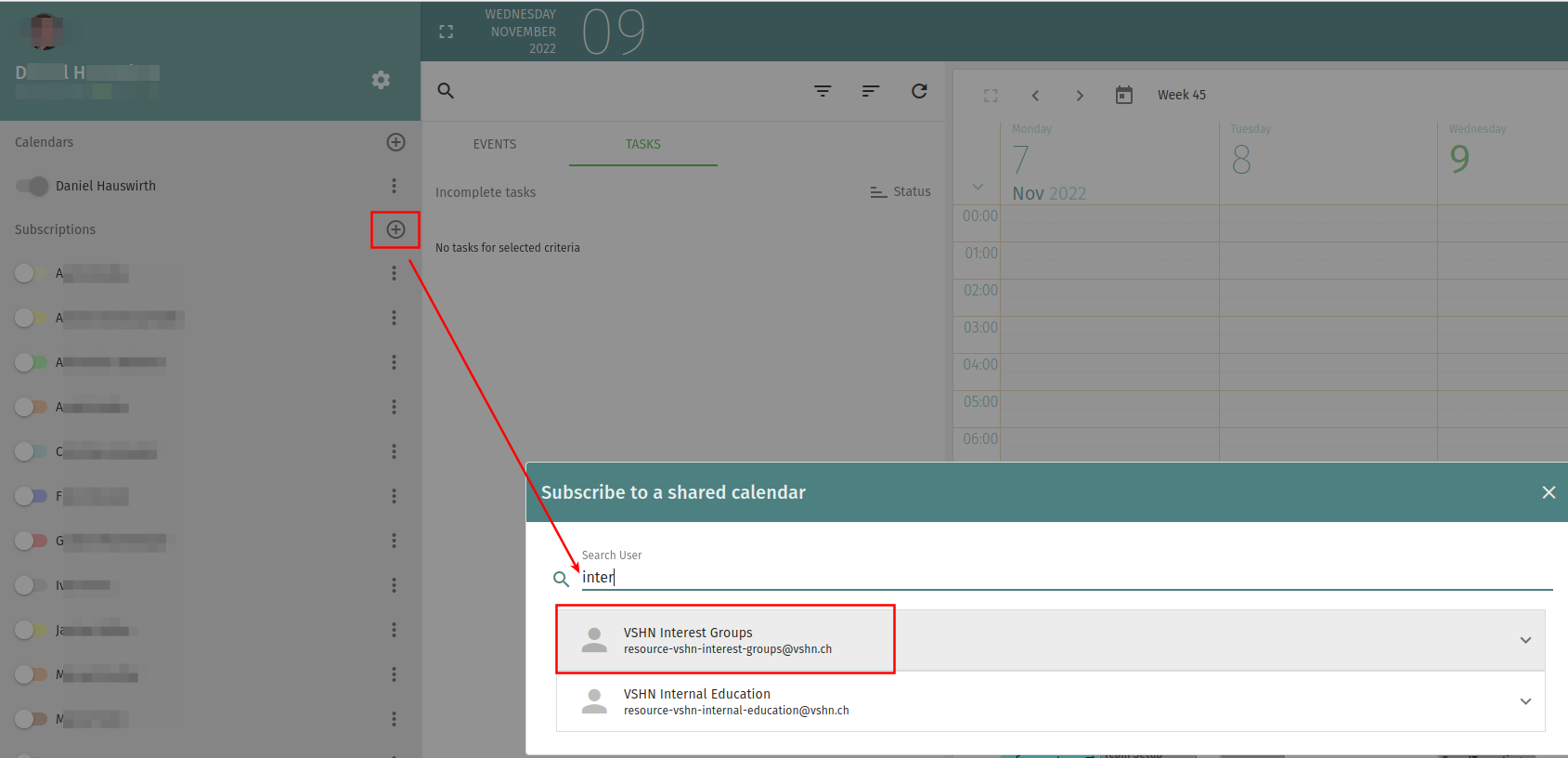 After that create the appointment with that calendar via sogo.vshn.net(SOGo in the web browser).
Clients for Calendar
You are free to use your local calendar client. People are using Evolution and Thunderbird, and we are using most probably a ton of other clients.
Below you'll find some tips for different clients.
Access your Calendars from Evolution
If you use GNOME Evolution you can access your SOGo calendars following these steps.
In SOGo, click on the "⋮ < Links to this Calendar" menu next to your calendar. Copy the first field, labeled "CalDAV URL" to your clipboard.

Open the Edit < Accounts dialog box.

Click the Add button and select the "Calendar" option.

Select the "CalDAV" type.

Enter the URL copied in the previous step.

Enter your username in the "User" field.

Click the Find Calendars button.

You will be asked for your password. Enter it and a list of possible calendars will appear. Select the one you want, choose a color and a name for it, and click OK to close the dialogs.
| | |
| --- | --- |
| | The same procedure applies to contacts (using CardDAV) and task lists (using CalDAV). |
Access your Calendars from Thunderbird
Go to Thunderbird Calendar and click on +

Choose "on the network"

In SOGo, click on the "⋮ < Links to this Calendar" menu next to your calendar. Copy the second field, labeled "WebDAV ICS URL" to your clipboard.

Paste the personal.ics link from above in and your username.

Click on the calendars you want to join and click subscribe.
Access your Calendars from Outlook
Download the CalDavSynchronizer

After downloading the synchronizer you need to unzip the folder

Run the Setup.exe

Restart Outlook

After starting Outlook you should see a menu called "CalDav Synchronizer"

Click on the menu and click "Synchronization Profiles"

It will open a window called "Options"

Click on the green "+" symbol

Choose SOGo as your profile type

Click on "Advanced Setting" and fill in your personal information

You can get the DAV URL from SOGo if you click on the three points next to your calendar and after that click "Links to this Calendar"

Copy the second link

After finishing the Profile click Synchronize now
Access your Calendars from macOS Calendar
| | |
| --- | --- |
| | You have to unsubscribe from all your calendars in SOGo first, otherwise you probably cannot connect with MacOS. |
Start macOS Calendar and open the Settings (Command + ,)

Choose "Accounts" in the top bar

Hit the + button and choose "other CalDAV Account…​"

Enter your E-Mail Address ending with the .net and your password

If this does not work, you can choose the account type Advanced and enter the following settings.
Access your Calendars from iOS
| | |
| --- | --- |
| | Unsubscribe from all except your own calendar in sogo.vshn.net web client or else the phone gets overwhelmed and will not sync. |
Go to the iOS Settings App

Go to Calendar → Accounts → Add Account → Other → Add CalDAV Account

Add the following settings

Server: sogo.vshn.net

Username: firstname.surname

Password: you know this part

Description: whatever you choose