Calendar
SOGo calendars are an important tool of collaboration with your team members.
Shared Calendars in SOGo
In SOGo's calendar view you'll find a "Subscriptions" section in your side bar. Click on the round "+" sign to search for a shared calendar.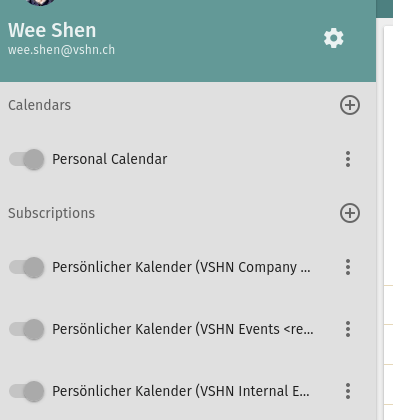 Popular shared calendars:
VSHN Company

VSHN Delegate Circles

VSHN Events

Internal Education

VSHN Tower (big room in Neugasse 6 on top floor)

Meeting rooms

Personal calendars of your colleagues
Access your Calendars from Evolution
If you use GNOME Evolution you can access your SOGo calendars following these steps.
In SOGo, click on the "⋮  Links to this Calendar" menu next to your calendar. Copy the first field, labeled "CalDAV URL" to your clipboard.

Open the Edit  Accounts dialog box.

Click the Add button and select the "Calendar" option.

Select the "CalDAV" type.

Enter the URL copied in the previous step.

Enter your username in the "User" field.

Click the Find Calendars button.

You will be asked for your password. Enter it and a list of possible calendars will appear. Select the one you want, choose a color and a name for it, and click OK to close the dialogs.
| | |
| --- | --- |
| | The same procedure applies to contacts (using CardDAV) and task lists (using CalDAV). |
Share your Personal Calendar
Your personal calendar must be visible for your peers to see; this way they can tell where you are at any given moment. These are the steps to do share your personal calendar.
Click on the "⋮  Sharing…" menu next to your calendar.

Choose "Any Authenticated User"–all SOGo users will have access to this calendar.

Public: "View All"

Confidential: "View the Date & Time"

Private: None