Salary System
VSHN has a unique, transparent, open salary system. This doesn't mean that we've a list of names with their respective salaries, but rather that:
We strive for fairness; everybody gets the same salary for the same work.

We aim for unambiguousness: a salary depends on objective criteria and not on the negotiation skills of individuals.

We take into consideration the training level, the experience and the responsibility required for each job.

We take care of the further development and growing of the know-how of our team members.
Salary System
The Salary System is based on three base concepts:
A basic annual wage, which has the current "100%" value.

A work experience level value.

A gradual increase of the wage in relation to the basic annual wage, according to work experience and seniority.
Instead of bonuses, we increase the basic annual wage according to the results of the previous year. This allows all VSHNeers to benefit from the success of the business.
The Salary System applies to all VSHNeers. For apprenticeship and internship the actual salary numbers are different, but the system stays the same.
| Experience Level | Percentage of Basic Annual Wage |
| --- | --- |
| 0 | 67% |
| 1 | 76.66% |
| 2 | 82% |
| 3 | 87% |
| 4 | 90% |
| 5 | 93% |
| 6 | 95% |
| 7 | 96% |
| 8 | 97% |
| 9 | 98% |
| 10 | 99% |
| 11 | 100% |
| 12 | 100% |
We determine the experience level of each new VSHNeer according to their current experience, eventually assigning a work experience level bonus at their entrance in VSHN.
| | |
| --- | --- |
| | The payment of the salary is divided into 12 installments, paid around the 25th of each month. |
Salary Evolution
\$y = 100 * (arctan(x + 3) - 0.5)\$
where \$x\$ is the work experience level (as explained above), and \$y\$ is the yearly salary in Swiss Francs.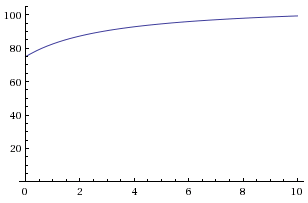 This methodology takes into account:
When VSHNeers take on more responsibilities.

Steady and continuous training and learning.

Internal education, being a Mentor and educating trainees.

More routine and productivity.

Role growth, taking on higher responsibilities.

Loyalty to VSHN.
Deductions
The basic annual wage is a gross number. This means that the legally prescribed social security deductions, employee contributions to occupational pension schemes and daily sickness benefit insurances are deducted in each case.
On-Call
Many of our engineers are available 24x7 during a whole week (in a rotation basis) to be able to solve issues for our customers as fast as possible, whenever and wherever they might happen. These engineers receive a certain amount per day of on-call availability, and outside of office-hours the time spent for actual on-call cases is payed as 150% worktime.
Bonuses
As explained above, VSHN doesn't pay bonuses; instead, every year we evaluate the performance of the previous year and we decide to increase (or not) the basic annual wage.
| | |
| --- | --- |
| | The last wage increase happened on January 1st, 2019. |
Trainings and Education
VSHN contributes up to 5 days and CHF 4000.00 per calendar year and employee for training courses.
Paid leave and Extra Time
VSHN initially offers 5 weeks of paid leave (25 days). For every year employed at VSHN, 1 additional day is added, up to a maximum of 35 days. We also offer flexitime and annual working time.
Stock Option Plan
The shareholders have committed themselves to give 10% of the proceedings to their employees in case of a sale or "exit" of VSHN (the so-called "Phantom Stock Options"). This value will be divided among employees according to the number of months they have worked at VSHN, multiplied by the percentage of employment.
Other Benefits
This isn't all! VSHN offers other great benefits:
Swiss Railways Half Fare Travelcard ("Halbtax") paid automatically every January.

Family allowance per kid.

4-week paternity leave.

14-week maternity leave (in par with Swiss law).

Possibility to buy hardware at business prices.

Snacks & drinks available in the office for free.

4 team events per year.

VSHNeers who have left in the same year will be invited to the next big event.

Massages once a month at the office (70% paid by VSHN).

Free choice of computer equipment, with the possibility to get new material every 3 years, and you get to keep the replaced hardware!