Timetracking
By law we've to keep track of the work time (attendance) of VSHNeers. To allow the Antares team to send invoices to customers for hourly billed work we've to record the time we work for customers (work logs).
We use two systems to track our time: Odoo for attendance and Jira for worklogs.
| | |
| --- | --- |
| | Don't wait until the last day of the month to fill in your timesheets! Your contract states it should be done by the end of every work day, and experience shows it's even better to do it immediately during the day, as you go from project to project. |
Odoo
At VSHN we use the Odoo ERP. One of its modules, the timesheet, must be filled every day in the following way:
Login into Odoo.

Select "Human Resources" in the menu above, then "My Current Timesheet" from the menu on the left. Or click on this direct link.

At the beginning of every month, remember to "Create a new Timesheet" by clicking on the "Save" button before logging time.

Every morning when you arrive, and every evening when you leave, click on the white "check-in" button next to your username. Also, check-out and check-in again while you enjoy your lunchtime break. Alternatively you can edit your attendance time directly in the timesheet or in the Attendance overview.

On the first day of a new month, go through your timesheets of the last month (choose list view in upper right corner) and click on the "Submit to Manager" button to close the timesheet and mark it ready to process. Note that it's locked after that, so do your work log items (see below) before closing it.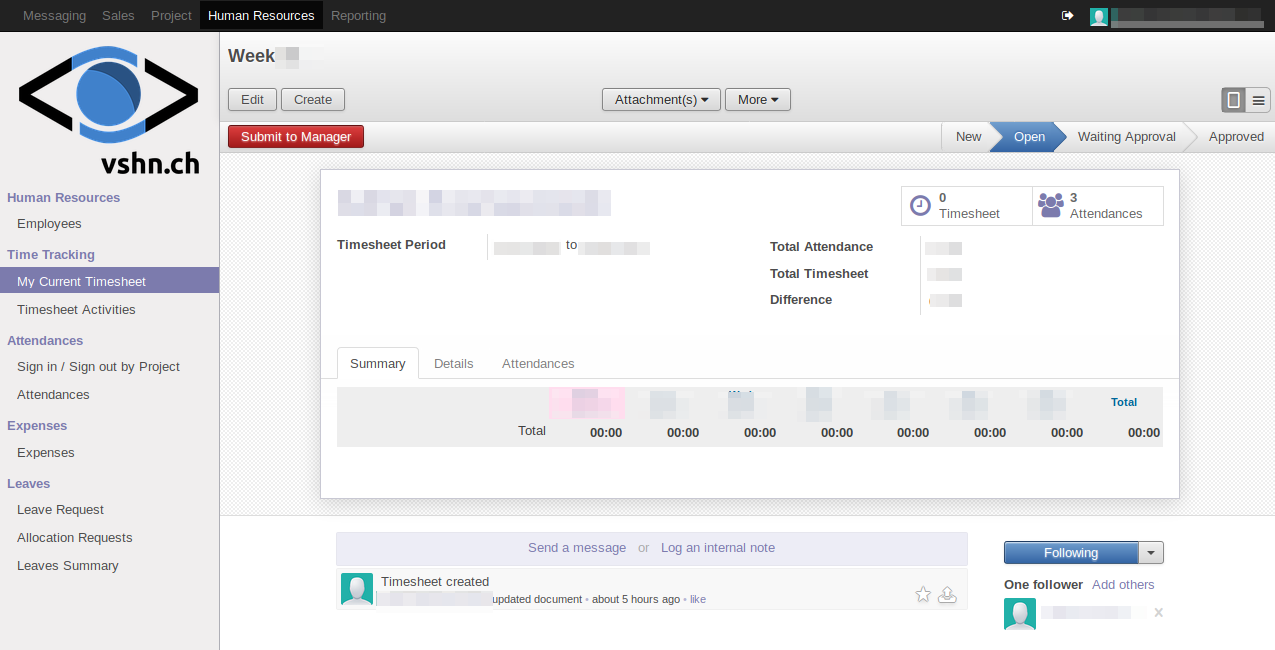 Attendance Rules
Lunch
Lunch time must also be recorded separately as it's not automatically deducted. Simply sign out & sign back in according to your lunchtime.
Remember to take lunch breaks!

Labour law requires everyone in Switzerland to take lunch breaks. Please take them, and also remember to record your lunch break times accordingly every day.

Over 18 years old

If you work more than 5 hours daily, you must take at least a 15-minute break.

If you work more than 7 hours, a 30-minute break is mandatory.

If you work more than 9 hours daily, you must take a 1-hour break.

Under 18 years old

If you work more than 4.5 hours daily, a 30-minute break is mandatory.

If you work more than 6 hours, you must take a 1-hour break.

The break must be at least one hour after the start and one hour before the end of working hours.
Absences
Absence days must be communicated reliably, and above all they must be planned, as much as possible! Absences must be communicated in the team; exceptions such as illness and unforeseen events (train cancellations, etc.) as early as possible.
Special Attendance
Can be recorded using the Action Reason when signing in or out. Use separate attendance, don't mix it with other Action Reason attendance entries.

Besides ordered outside-office-hours, must be logged as attendance time corresponding to your daily working hours, taking into account part-time employment (reduced working hours per day).
| | |
| --- | --- |
| | You always need a sign-in and and sign-out with the same Action Reason. |
Outside Office Hours
Only upon request for work from 20:00 to 08:00 on regular work days and all day on weekends or public holidays. Typical types of work that fall into this category are planned maintenance and on-call alerts. Outside Office Hours aren't to be confused with 24x7 worklogs for customers (which is about billing).

Can be recorded using Outside office hours as the Action Reason.

See also Work Hours
Sick leaves
are the first 2 days sick at home.

are when you are on sick leave prescribed by the doctor.

can be recorded using Sick / Medical Consultation as the Action Reason.
Medical Consultation
In principle, visits to the doctor, dentist, or authorities are not working time (that is, you may record no attendance), as we have annual working hours, and you can choose when you work.

Therefore, all appointments (including doctor's appointments) can be scheduled at any time but are not work time (you must sign out) and must be coordinated with your team to limit any negative impact as much as possible.

In urgent situations, such as medical issues where you need to see a doctor as soon as possible, you cannot schedule. That's why VSHN grants you this time as working time (to be logged as a medical consultation) up to 2 hours per incident. Must be recorded using Sick / Medical Consultation as the Action Reason.
Militia Fire Service
counts as work time during normal office hours for ordered assignments ("Einsätze" or "Angeordnete Übungen"), because:

according to Swiss law (Art. 324a OR) the fulfillment of legal obligations during normal office hours is work time.

There is a militia fire service obligation in most cantons and municipalities of Switzerland which counts as fulfillment of legal obligations.

VSHN decided in VIP-70 to give this right to any VSHNeer in active fire service duty regardless of the canton or city of residence.

can be recorded using Requested Public Service as the Action Reason.

salary impact should be checked annually by PeopleOps only if a VSHNeer has an annual double payment exceeding CHF 500. We don't actively enforce this and trust VSHNeers to report if they estimate this to be higher.
Jira
In VSHN we use Jira to track every task, its progress and the time spent for it. Whenever you are assigned to a project or a task, there will be a Jira ticket for you to track your time in.
Use the Timetracker to add entries to your work during the day.
| | |
| --- | --- |
| | We use Jira extensively in many other ways. Please check the corresponding section in this Handbook for more information. |
Worklogs and Attendance
We've rules depending on the type of the Team:
| | |
| --- | --- |
| | This section might be out-of-date as of March 2023. VIP-17 is in review. |
Value Stream Teams

A mechanism is needed to make sure no billable hours are lost. For this these Teams use a very simple set of Chores to track their internal time (for example Internal Work, Meetings, Team Building) and thus have the ability to make sure the sum of attendance in Odoo and the sum of recorded work logs per day in Jira can match. VSHN Internal Work is offered as a "catch-all" Chore company wide. Managed service related work, that can't be logged directly to a customer ticket, shouldn't be logged on the VSHN Internal Work chore, but on the Monitoring Ops chore instead.

Other Teams

The sum of attendance in Odoo and the sum of recorded work logs per day in Jira don't have to match. Work logs for invoiceable work still has to be logged though and the teams are responsible to make sure this actually happens. Members of these teams are free to still log work on internal Issues and Chores, if it helps the team to organize their work or assess the workflow.
Worklog Rules
15 Minute Blocks

We record time in 15 Minute blocks (not 5, not 20). When in doubt, round up or down. This is because we use the timesheet entries to bill our customers.
---
These rules are tracked and reviewed as VIP-17.