People Success Platform
What is it?
Lattice includes several modules, helping us to better understand how you feel, setting goals, setting growth plans, planning 1:1s, to give and request feedback (both private and public), and finally, play "office party".
First, we're rolling out a new happiness survey to get feedback from all VSHNeers, to help make it a better workplace. All of you will from now on receive monthly notifications with a short "pulse survey" from Lattice. Lattice's pulse surveys are a short series of quick questions sent regularly on various themes to help us understand how you feel at and about work at VSHN over time. It's organized similarly to delighted (previous "VSHN eNPS Survey"), but we adjusted this to try and get additional feedback so that we're making progress toward building the kind of workplace you look forward to coming to every day.
All answers will be completely anonymous, so please answer honestly.
Setup & Access
If you're a new user, you should have received an email from Lattice to signup. If not, please contact PeopleOps.
After setting your password and logging in, please go to "view profile" > "edit profile", and please add an avatar and maybe add a little it about yourself under "Bio" (for example, what you're doing, what you've done in the past, your hobbies etc.).
Current Modules
Your view should look like follows. You currently can use Lattice to plan 1:1s and give and receive feedback, as well as view the company directory, clicking on "VSHN" or play "Office Party":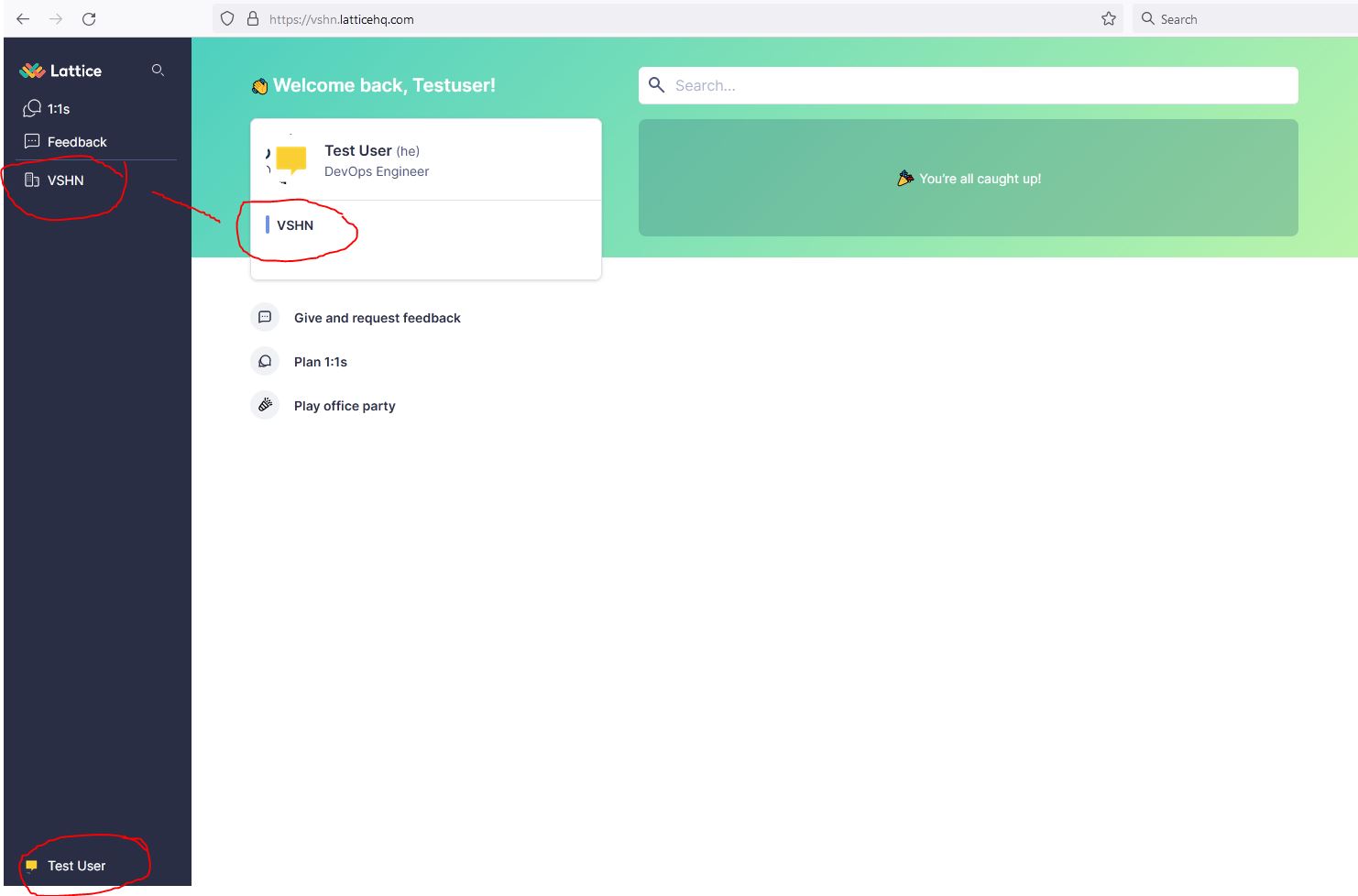 You will also receive a monthly "Pulse Survey" via email to answer a couple of questions about your happiness / how you're currently feeling.
| | |
| --- | --- |
| | A key metric for VSHN is the eNPS score. Assessing the eNPS score is part of the Pulse Surveys and sometimes of other one-time surveys. Please see eNPS in Lattice for more information on how to asses your score and give feedback. |
Disclaimer
Lattice uses some "traditional/hierarchical" speech, such as "managers" or "department heads". For now, we've selected the Team Facilitators / Product Owners of a team, but this doesn't mean that all of you suddenly have "a manager".

Not all modules / features in Lattice are fully set up, we'll keep you informed about any changes / new modules / features
FAQ - Pulse Survey
What is a pulse survey, and why is it important?

Like an engagement survey, pulse surveys are an opportunity to understand how employees feel about their role, team, company, etc. You will be asked quick questions about how strongly you agree or disagree with a statement about our workplace. As surveys are sent over time, responses are aggregated so that we can see - in real-time - what we're doing well as a company and where we could improve. You will receive a pulse survey regularly, but only some people will get the same pulse at the same time. This is to ensure that we're ruling out any survey biases. ‍

Filling out the survey

When you're pulsed, you will get a link to fill out the survey sent by Lattice. Answering the survey only takes a few seconds, so please submit them as soon as the pulse survey is sent to you.

Survey confidentiality

‍The responses from the survey will be completely confidential through all parts of this process. Lattice administers the survey, and all results are not stored on anyone's computer at VSHN.

What happens with the survey answers?

Because PeopleOps isn't administering each survey directly, we only see a trend of answers over time in Lattice. This helps us quickly understand any point about the workplace culture and see if something has recently improved or declined for some reason. We will not be able to see anyone's answers or identifiable information - only the cumulative score.
Thank you for your time and help in making VSHN a better place to work. Please let PeopleOps know if you have any questions about Lattice or the upcoming survey.