Timesheets
For regulation and management purposes, we've to keep track of the work performed in the company in timesheets. This allows the Antares team to send invoices to customers for hourly billed work, and to comply with the local work regulation in the city of Zürich.
We use two systems to track our time: Odoo for attendance and Jira for worklogs.
| | |
| --- | --- |
| | Don't wait until the last day of the month to fill in your timesheets! Your contract states it should be done by the end of every work day, and experience shows it's even better to do it immediately during the day, as you go from project to project. |
Odoo
At VSHN we use the Odoo ERP. One of its modules, the timesheet, must be filled every day in the following way:
Login into Odoo.

Select "Human Resources" in the menu above, then "My Current Timesheet" from the menu on the left. Or click on this direct link.

Every Monday morning, remember to "Create a new Timesheet" by clicking on the "Save" button before logging time.

Every morning when you arrive, and every evening when you leave, click on the white "check-in" button next to your username. Also check-out and check-in again while you enjoy your lunchtime break. Alternatively you can edit your attendance time directly in the timesheet.

On the first monday of a new month, go through your timesheets of the last month (choose list view in upper right corner) and click on the "Submit to Manager" button to close the timesheet and mark it ready to process. Note that it's locked after that, so do your work log items (see below) before closing it.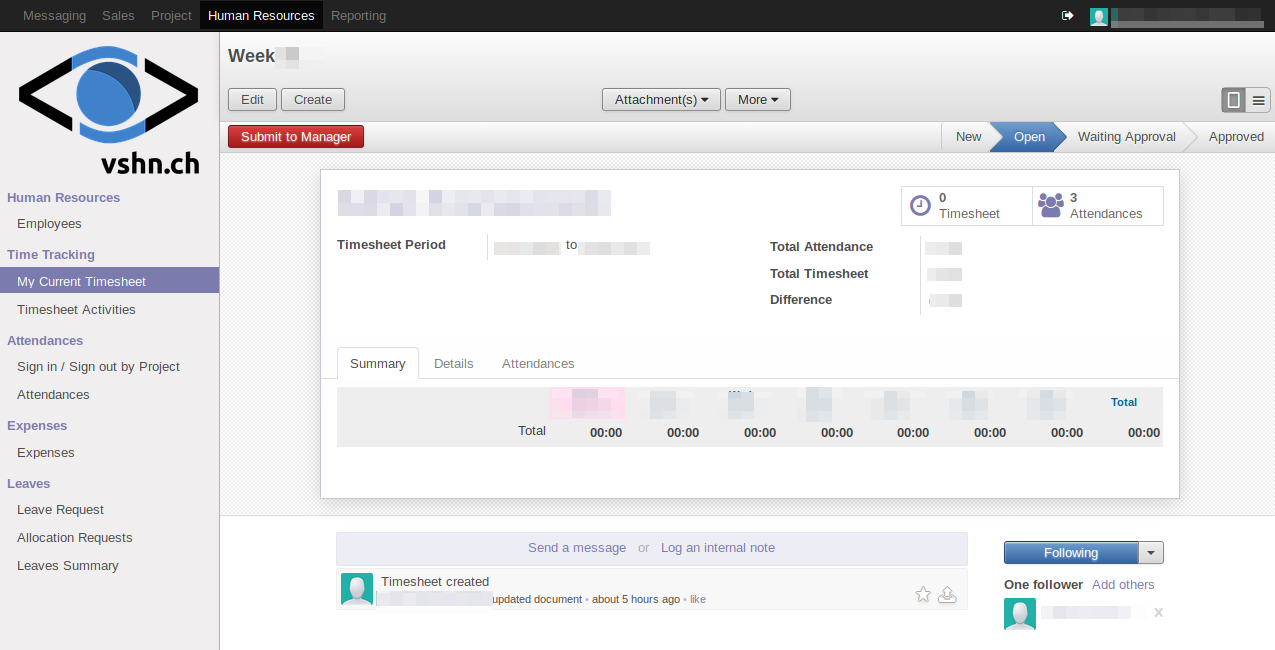 Jira
In VSHN we use Jira to track every task, its progress and the time spent for it. Whenever you are assigned to a project or a task, there will be a Jira ticket for you to track your time in.
Use the Timetracker to add entries to your work during the day.
There will be even a task for your own onboarding, and tasks for the team planning sessions of your team. Request your team leader for the issue numbers of those events, and log your time accordingly.
| | |
| --- | --- |
| | We use Jira extensively in many other ways. Please check the corresponding section in this Handbook for more information. |
Time-Tracking Rules
Product and Central Services Teams

The sum of attendance in Odoo and the sum of recorded work logs per day in Jira don't have to match. Work logs for invoiceable work still has to be logged though and the teams are responsible to make sure this actually happens. Members of these teams are free to still log work on internal Issues and Chores, if it helps the team to organize their work or assess the workflow.

Solution and old Tech Teams

A mechanism is needed to make sure no billable hours are lost. For this these Teams use a very simple set of Chores to track their internal time (for example Internal Work, Meetings, Team Building) and thus have the ability to make sure the sum of attendance in Odoo and the sum of recorded work logs per day in Jira can match. VINT-2270 is offered as a "catch-all" Chore company wide.
Some Time-Tracking Tips
Pay attention to the following guidelines when tracking your time in Jira and Odoo.
15 Minute Blocks
We record time in 15 Minute blocks (not 5, not 20). When in doubt, round up or down. This is because we use the timesheet entries to bill our customers.
Lunch
Lunch time must also be recorded separately as it's not automatically deducted. Simply sign out & sign back in according to your lunchtime.
Date Overlaps
If you have to work beyond the day change (for example from 22:00 to 01:00 o'clock), then you must log out at Odoo at 23:59 and log back in again at 00:01, because otherwise the system gets spoiled and credits you 42 hours (or similar) for the day!
Outside Office Hours
Outside Office Hours duration is from 20:00 to 08:00 and always arranged! To know more about how to record them, check the wiki.
| | |
| --- | --- |
| | Outside Office Hours aren't the same like 24/7 for customers. |
Sick leave and medical consultation
Leave Request
The instructions to record a leave request are, as usual, in our wiki.
Home Office & Absences
Absences and home office days must be communicated reliably, and above all they must be planned, as much as possible! Absences or home office must be communicated by the evening before; exceptions such as illness and unforeseen events (train cancellations, etc.) as early as possible, either via Threema or VSHN Chat.
Otherwise, we expect you to be in the office every morning on Mondays from 11:00, and Tuesdays to Fridays from 11:30 onwards.
If it doesnt fit onto a ticket
Especially in the beginning you will face situations in that you might not really know on which ticket to track your time. Maybe you have a longer informal talk with someone about work or you need to learn about something before working on a ticket. There are also tickets for these situations, see Jira for a list.